Startups and Entrepreneurs to incubate at the Entrepreneurship Incubation Cell @ CSJM University Kanpur
Innovation Cell Monthly Report (May 2022)
Innovation Cell Monthly Report (April 2022)
Innovation Cell Monthly Report (March 2022)
Innovation Cell Monthly Report (February 2022)
Innovation Cell Monthly Report (January 2022)
Innovation Cell Monthly Report (September 2021)
Innovation Cell Monthly Report (October 2021)
Innovation Cell Monthly Report (November 2021)
Innovation Cell Monthly Report (December 2021)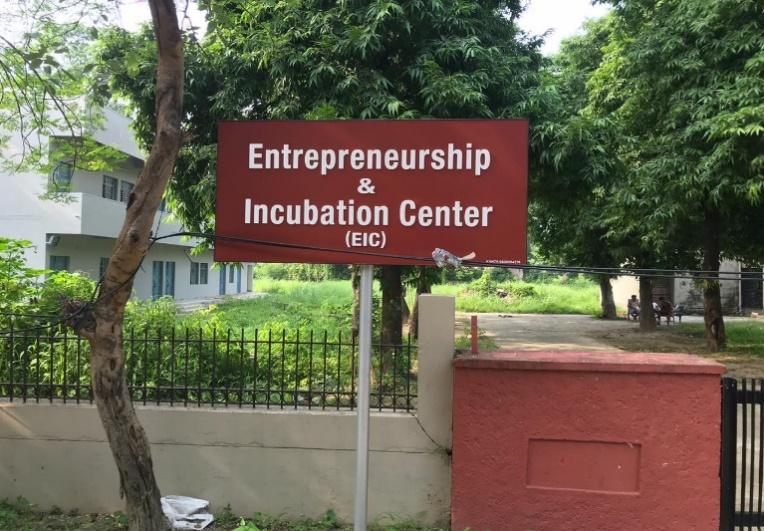 In 2019, Chhatrapati Shahu Ji Maharaj University, Kanpur (CSJMU) established the Entrepreneurship & Incubation Cell (EIC) for fostering entrepreneurship and nurturing innovative and executable ideas from various academic disciplines and other fields. It helps students, research scholars and faculty members to execute the ideas into products, processes or services for the benefits of society as well as industry.
Entrepreneurship forms the backbone of the nation's economy and in order to strengthen entrepreneurship ecosystem, CSJMU, Kanpur is working on igniting the ideology of starting their own ventures amongst India's youth. The youth of today need to be more inclined towards creating jobs rather than getting one. Therefore, to assist the youth in becoming self-employed and creating employment opportunities, the college has come forward to provide support in every possible manner. Therefore, for this purpose a full-fledged Incubation Cell has been setup which will work as a catalyst for entrepreneurship development within the college campus.
STUDENT START-UP promotion POLICY, 2019
CSJM University aims to promote technology, science, and management based entrepreneurships among its students and faculties and thereby facilitate practical application of knowledge for the development of demand based ideas and innovations that benefit the society.
With this goal, CSJM University has based its Student Start-Up Promotion Policy to promote amongst its largest student body and academic fraternity a spirit of Start up and Make in India.

The University will incubate at most 10 companies at a time. One financial year can have at most 5 new companies incubated.
Mission
To create and foster student-centric entrepreneurial endeavours for practical application of knowledge and creating employment and enhanced quality of life.
To help young entrepreneurs convert ideas and innovations into revenue generating products.
To promote large scale employment generation amongst youth of Kanpur region.
Faculty Start-up promotion poilicy, 2019
Faculty members at CSJM University are continuously engaged in knowledge generation and dissemination. A large number of R&D activities are being carried out by faculty members and students in several cutting-edge science and technology areas. Through the Faculty Start-Up Promotion Policy, CSJM University aims to translate these research outcomes into commercial products, benefiting the society in general.

The faculty start-ups will get various incentives and benefits at every stage of the incubation process. These incentives include, but are not limited to financial aid, patent filing cost reimbursement, etc.
ENTREPENEURSHIP & INCUBATION CELL (EIC), CSJMU
Under the Student Start-Up Policy, an Entrepreneurship & Incubation Cell (EIC) was established in 2019 as student start-up promotion centre to foster student-centric innovative technology build-up and entrepreneurship.
Objectives
Create a pre-incubation platform to nurture ideas to technological inventions and business enterprises by providing pre seed financial support, infrastructures and resources.
Develop entrepreneurial attitude in student and faculty by incorporating it within the academic framework.
Create an environment that converts University students into job creators by providing motivation and end-to-end support.
Empower students to file patents for their innovations and ideas.
Integrate academia, industry, as well as government supporting agencies in a systematic manner to create further entrepreneur avenues.
Create awareness regarding the various Government policies supporting 'Make in India' through workshop, awareness drives, Annual Start-Up Fest and incentives in form of awards, etc.
Entrepreneurship & Incubation Center, CSJMU
The University has, under the Student Start-Up Policy, established an Entrepreneurship & Incubation Center as a facility for proper functioning of the Entrepreneurship & Incubation Cell (EIC) and to provide a preliminary incubation space for the student and faculty start-ups.

Sprawled over an area of 10,000 sq.ft., an Entrepreneurship & Incubation Center is being currently set up in the University Campus complete with office spaces and workstations for start-up companies as per the guidelines of GoUP or Incubators.
Exterior & Interior Views
EVENTS ORGANISED BY EIC, CSJMU
THE ENTREPRENEUR CONCLAVE (16th March 2019)
The Entrepreneur Conclave has been conducted on 16th march 2019 in Auditorium of CSJM University Kanpur. In this conclave Chief guests Prof. Alok Prakash Mittal, Member Secretary, AICTE and Prof. D.S. Chauhan, Former VC of AKTU and Secretary General of association of Indian University attended the conclave and following speakers were also present:
Abhishek Tiwari from IT Department, GoUP
Vinayak Nath from Venture catalyst
Aditendr Jaiswal from Srijan Sanchar
Abhinav Pandey from iBHubs
Anuj Awasthi from Kanopy Technologies
Prerna Verma from Creative Leathers
THE CSJMU & IIT-K & HBTU MoU (16th October 2020)
Two MoUs were signed successfully by EIC, CSJMU – one with SIIC-IITK and another with Incubation hub, HBTU.
FINANCIAL AWARENESS FOR SMES(22nd Nov 2019)
The EIC organized a 'Financial Awareness for SMEs' on 22nd November 2019 to create financial awareness for SMEs. The target participants were SMEs, Startups, Freelancers, and Wannapreneurs.
The Guests of Honor for the event were:
CA Ajay Bhargava, a veteran in Business Risk Consulting- financial controls, revenue assurance, and audits and process improvement.
Kshitij Singh Yadav, CFA, with stints in both corporate and consulting, he specializes in corporate finance, private equity, debt syndication, SME IPO, mergers & acquisitions, and transaction advisory.
ENTREPRENEURSHIP BOOTCAMP (21st to 22nd Jan 2020)
A two-day Entrepreneurship Boot Camp was organised by Entrepreneurship & Incubation Cell (EIC), CSJM University, Kanpur in collaboration with MSME, Government of India.
The participants learnt how technology can be utilized as a valuable instrument to see their entrepreneurial initiatives to success. The experts from MSME talked about the various MSME and State Government Schemes in place that can aid the young entrepreneurs in their endeavours.
SMART INDIA HACKATHON (2nd March 2020)
The Entrepreneurship and Incubation Cell, CSJMU, Kanpur organized the Internal Hackathon for the Smart India Hackathon 2020. Where the participating teams presented their ideas to solve the problem statements that are prevalent in India.
The jury panel included:
EXTERNAL EXPERTS
Dr. Manoj Kumar Tiwari, Regional Officer & Asst. Director, NRO-AICTE, Kanpur
Prof. Raghuraj Singh, HOD – CSE, HBTU
INTERNAL EXPERTS
Dr. Deepak Verma, UIET
Dr. Shilpa Kaistha, BSBT
Dr. Nisha Sharma, Institute of Pharmacy
COVID-19 INNOVATION CHALLENGE (27th June 2020)
On 27th June 2020, the prize distribution of the "COVID-19 Innovation Challenge" organized by Entrepreneurship & Incubation Cell, Chhatrapati Shahu Ji Maharaj University, Kanpur was conducted Live on the University's Facebook Page https://www.facebook.com/csjmuknp/, convened by Dr. Rashi Agarwal, Head of Entrepreneurship & Incubation Cell, CSJMU. The winning teams also showcased their working prototypes in the ceremony.
IIC SESSIONS (5th Sept- 4th Oct, 2020)
Innovation and Incubation Cell (IIC) and CSJM University, Kanpur has hosted many such sessions for the students in co-ordination with Dr. Rashi Agarwal (Head, IIC). The Main objective of these Sessions was to make sure that the students are able to connect with the Guest speakers and are able to understand what to expect when going in the Industry.
Session 1
The session was taken by Mr. Siddhant Singh. He is a branding and advertising professional who worked in Asian American Market. Currently Organic Growth Lead at PagaBook. The session started with the introduction about branding and advertising. He talked about how can one promote a brand and how well designers work in this field and why it is important to make social media portfolio, as it engages a lot of people and world to know your work. Scope of branding and advertising.
Session 2
The session was taken by Mr. Aditya Dube. He is a Technology lead working with Tech Mahindra Munich. He provides consulting to clients on digital transformation.
He has almost 9 years of experience working in a multicultural and globally diverse environment. He talked about Emerging Technologies like AI, Cyber Security and Internet of Things and AR, VR, MR, XR and 5G. It was surely a great brief to students about the different technologies happening in the world.
Session 3
The session was taken by Mr. Kumar Manik, He started as a Project Engineer in an Engineering Firm.He went up the ladder to be the project head at a leading solar EPC Company. He then started as a Co- founder of Recube Energy Pvt. Ltd. He gave a wonderful story example from his own life to make the students understand that you just need to see around the opportunities and make use of it. He talked about the solar plants as a whole, and how waste management can be a part of a great business idea. How to come with ethical business plans and how students can work from college level over their idea and the importance of sustainable business.
SESSION 4
The session was taken by Mr. Anand Mishra, He is a Technology consultant with 7N Consulting, He has been part of software industry for more than 10 years. He talked about the Basics are essential in IT Industry, T- shape Developer, Data structures and Algorithms, AI, ML And Cloud Computing And programming language like Java, C, C++, Python and Html, Xml. Students by the end of this session were full of enthusiasm for programming and understanding how they can perform better in university and industry.
SESSION 5
The session was taken by Mr. Ashutosh Srivastava. He has worked as an Application Developer in IBM for 2.5 years. He works as a Cyber Security officer in Public Sector Bank. He is engaged in career guidance and instructing competitive exams aspirants for over 12 years.

He talked about Protection for data and networks, prevention of unauthorized users, business protection against malware, ransomware, phishing and social engineering and protection for end-users. It was beneficial for all the students.
Session 6
The session was taken by Mr. Pateek Abhimanyo Johri. A multifunctional, biodegradable, life-form classified as a human being, who is now serving in the multifunctional world of risk consulting, where he gets to work with clients on problems which can't wait!

He talked about his journey into the world of Risk Consulting. Risk management is the identification, evaluation, and prioritization of risks followed by coordinated and economical application of resources to minimize, monitor, and control the probability or impact of unfortunate events or to maximize the realization of opportunities.

Session 7
The session was taken by Mr. Ankur Porwal. Alumnus of IIT Roorkee & Columbia University NY, an Ivy league College. Working as an Asst. Vice President Data Scientist in Citi Bank, New York. AI specialist, having tech. experience in supply chain, Health care & Finance Industries.
He talked about the Scope of Artificial Intelligence. Its evolution over the years. AI shaping its way in the future and how important it is for our world.
Session 8
The session was taken by Miss Kajal Bhaduaria, she is a young dignified SPL (student pilot licence) holder and an ex Radio Jockey. She is a mentor of change under Atal innovation mission – NITI AAYOG GOVT. OF INDIA and Co-founder of The Magnets – which is succeeding in its aim of creating magnetic personalities across the nation. Her corporate journey has been 5 years long with software and business developer giants. Being a distinct classical singer, Kathak dancer she equally excels in foreign language (French). Her personality development sessions have been loved by young students and employees.
INAUGURATION OF CODISTAN (3rd Oct 2020)
Codistan is a community established by the students of UIET, CSJMU under the Innovation & Incubation Cell, CSJMU for all coders to enhance their coding skills and to become better problem solvers.

TOYCATHON (25th Jan 2021)