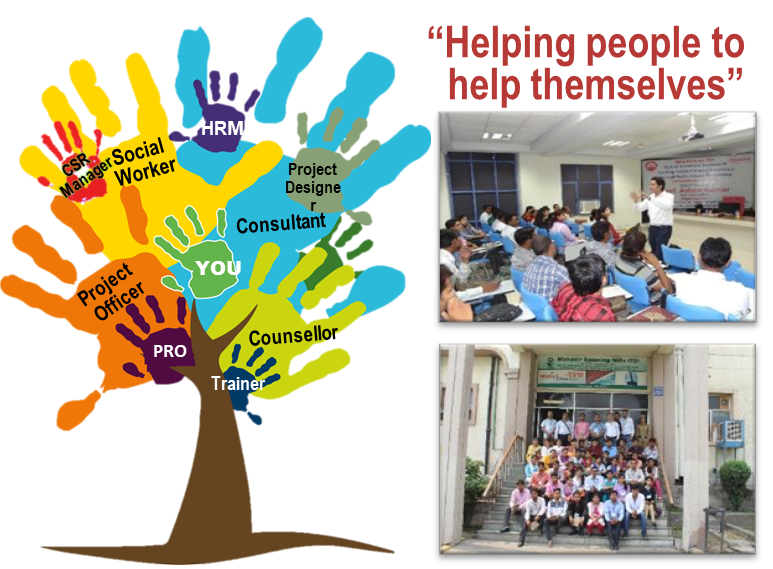 Focusing on the latest knowledge dissemination, application, integration and creation by enriching the five senses of the students. Developing a new genre of Development professionals, driven by timeless human values, equipped with the best of knowledge and skills and committed to serve all types of people and nature with love, trust, tolerance, humility.
Exploring the frontiers of scientific Development Professional thought extending it further for the service of humanity. Cherishing, uploading, nurturing and living by the best of the social values. Learning to listen to people with deep understanding and sensitivity.
At present the development sector is largely controlled and managed by the welfare or Non-Governmental Organizations (NGOs)–who are doing the pioneer work towards the overall development of the society. A person with a degree (preferably a Master degree) in Social Work is highly preferred in developmental agencies and NGOs. In other words, it can be said that NGO sectors as well as the development sectors are being dominated by the professional social workers. As far as the salary of a professional social worker in development sector (in India) is concerned – it varies from organization to organization. Percentage of marks in M.S.W hardly matters in recruitment-process of development sector; 50% to 55% marks in M.S.W is enough to get a good job in a reputed organization. What does matter – is relevant working experiences, possession of suitable technical skills of project management, sound knowledge managing NGO administration.
It responds to crises and emergencies as well as to everyday personal and social problems. Social Work utilizes a variety of skills, techniques, and activities consistent with its holistic focus on persons and their environments. Social Work interventions range from primarily person-focused psychosocial processes to involvement in social policy, planning and development. These include counseling, clinical social, social work, group work, social pedagogical work, and family treatment and therapy as well as efforts to help people obtain services and resources in the community. Interventions also include agency administration, community organization and engaging in social and political action to impact social policy and economic development.
Field of Practice for Professional Social Workers
Addiction / Substance Abuse
Child Welfare/ Elderly Care
Clinical / Mental Health
Correctional Institutions/ Prisons
Counseling & Therapy
Consultancy Services
Community Development
Family Welfare and Planning
Medical Social Work
Mental Health/ Psychiatric Social Worker
Management of Social Services
Mother & Child Health
Policy & Planning Services
Poverty eradication
Rehabilitation of Offenders
School Social Worker
Industry
Manager (HR/Personnel/Welfare etc.) / Executive Trainee /Labor Welfare Officer /Personnel Officer etc.
Corporate Sector
CSR
Manager
Executive Trainee
Community Dev. Officer
Social Development Officer
Rural Development Officer
Social Welfare Officer etc.
| | | |
| --- | --- | --- |
| Eligibility | Duration | Fee |
| Graduation in any stream with 40% marks (05% relaxation for SC/ST) | 2 years (4 semester) | 39,200/- per year |