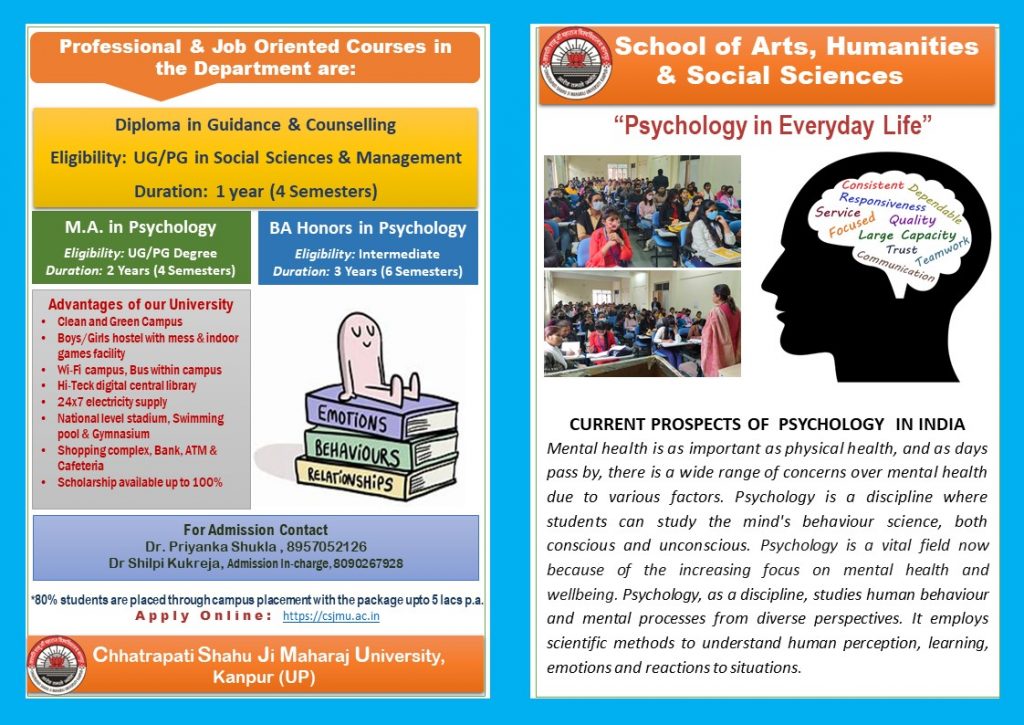 Current Prospects of Psychology in India:
Mental health is as important as physical health, and as days pass by, there is a wide range of concerns over mental health due to various factors. Psychology is a discipline where students can study the mind's behaviour science, both conscious and unconscious. Psychology is a vital field now because of the increasing focus on mental health and wellbeing. Psychology, as a discipline, studies human behaviour and mental processes from diverse perspectives. It employs scientific methods to understand human perception, learning, emotions and reactions to situations.
Professional & job oriented courses in the department are:
Diploma in Guidance & Counselling:
Eligibility: UG/PG in Social Sciences & Management
Duration: 1 year (4 Semesters)
Eligibility: UG/PG Degree
Duration: 2 Years (4 Semesters)
Eligibility: UG/PG Degree
Duration: 3 Years (6 Semesters)
Career Prospects in Psychology:
With the demand for psychological counselling increasing day-by-day, MA Psychology scope and job opportunities are huge. The students can get jobs as:
• Clinical Psychologists,
• Psychological Counsellor
• Child Psychologist
• Psychologists in Rehabilitation Centre
• Sports Psychologists.
• They can also work with various NGOs and social organizations.
• Mental Health Counsellor
• Alcohol and Drug Counselor
• After completing MA Psychology, a candidate, if willing to go for further studies, can pursue Ph.D in any one of the branches of Psychology, like clinical Psychology, Industrial Psychology, etc.
• Job growth in the department of Psychology is expected to grow by 25% by 2025.
• The world needs more and more psychiatrists and Psychologists to deal with stress, high pressure and the growing loneliness among people. This is a field created by the modern age and it will only grow with it.
•Students also have a huge field of research opportunities after MA Psychology.
•Assistant Professor
•Civil Services.
Fees Structure: As per University norms
Seats: 30 Seats will be available in BA/PGDGC/ MA Psychology programme.
Advantages of our University:
Clean and Green Campus
Boys/Girls hostel with mess & indoor games facility
Wi-Fi campus
Hi-Teck digital central library
24×7 electricity supply
National level stadium, Swimming pool & Gymnasium
Bank, ATM & Cafeteria
Scholarship available up to 100%