About The Department
The rapid development in Electronics and Communications initiated the inception of a Department of Electronics and Communication Engineering in 1996. Currently the department offers U.G. course as well as P.G. course:
B.Tech (Electronics and Communication Engg.)
M.Sc. (Electronics) (2 Years)
Integrated M.Sc.(Electronics)(4years)
Electronics and Communication Engineering – ECE – Program outcomes, program specific outcomes and course outcomes
The department offers basic as well as following advance courses under its curriculum:
Digital signal processing
VLSI design & Technology
Optical Networks etc
The department has active interaction with reputed institutes like IIT (Kanpur), HBTU (Kanpur) and IETE Kanpur local chapter. The faculty are actively involved in research in the areas of Digital Communications, Signal processing, Instrumentation, VLSI, Antenna Design, Power Electronics and Embedded, Fibre Optics Communication.


Objectives
To help the students and teachers to reach their full potential by providing multifaced, supportive learning and teaching environment.
To enhance University status as a Centre of research and higher education.
To position the University as the leading provider of outreach services in collaboration with other institutes of higher learning and research to users on and off the campus.
To provide global access to information published worldwide in many disciplines in support of qualitative research and education at the University level.
Laboratories
There are following labs in Electronics & Communication Engineering Department:
Digital Signal Processing Lab
Analog and Digital Communication Labs
Microwave and Wireless Lab
Advance Optical Communication Lab
Microprocessor Lab
Instrumentation Lab
Basic Electrical and Electronics Lab
Digital Electronics Lab
Analog Integrated circuit Lab

Digital Signal Processing Lab:
OBJECTIVES & OUTCOMES
The student should be made familiar with:
The implement Linear and Circular Convolution
The implementation of Cross correlation and auto correlation
The implement FIR and IIR filters
The study the architecture of DSP processor.
The demonstrate Finite word length effect
At the end of the course, the student should be able to:
Carry out simulated of DSP system
Demonstrate their abilities towards DSP processor based implementation of DSP systems
Analyze Finite word length effect on DSP.
Demonstrate the application of FFT to DSP
LIST OF MAJOR EQUIPMENTS & SOFTWARE
DSP processor kit
MATLAB with simulink
Signal processing tool box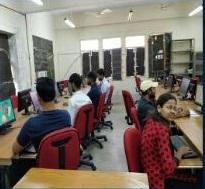 Analog and Digital Communication Labs:
To provide knowledge based services to satisfy the needs of society and the industry by providing hands on experience in various technologies in core Analog and Digital communication field, make the student to design ,experiment, analyze, interpret in the core field of communication engineering with the help of other multi-disciplinary concept wherever applicable.
To educate the student to disseminate research findings with good soft skill and become a successful entrepreneur.
Microwave and Wireless Communication Labs:
This lab contain equipments and trainers to design, implement and evaluate the different parameters of microwave by using klystron and gunn diode in X-band. It contain tools for implementation and analysis of wirless system as GSM,CDMA, satellite as well as GPRS,RFID,XBEE & wireless sensor network systems are used for real time applications.
Advance Optical Communication Lab:
Student should get hands in experience working with real time instruments
Should be exact replica of the OFC setup used by telecom operator
Individual instruments could be used for other research application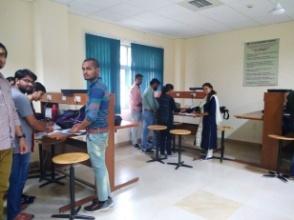 Microprocessor Lab :
Microprocessor lab caters to the students to learn the skills of application of
microprocessor in different fields. Practices on 8085/8086 Kits and assembler on PC
using Assembly Language Programming & Interfacing with other devices is the key
feature of this lab.
Instrumentation Lab :
Student should hand on experience in working with real time instruments/ transducers such as

Temperature Transducers,
Optical Transducer,
LVDT,
Strain gauge,
liquid level,
load cell etc

Also designing virtually different AC and DC bridges, DAC, ADC, waveform generators etc on NI multisim Software on PC.
Basic Electrical and Electronics Lab:
It is the basic lab for all the first year undergraduate engineering students, intended to give fundamental concepts of electrical and electronics through study of various types of Electronic Devices and their application and other fundamental electrical network for understanding of the network theorem.

Digital Electronics Lab :
This lab is designed for the students to study the realization of logic gates using Transistor, Diode, & Resistor and to study different TTL IC using digital trainer kits. (e.g., flip-flop, counters and registers) etc.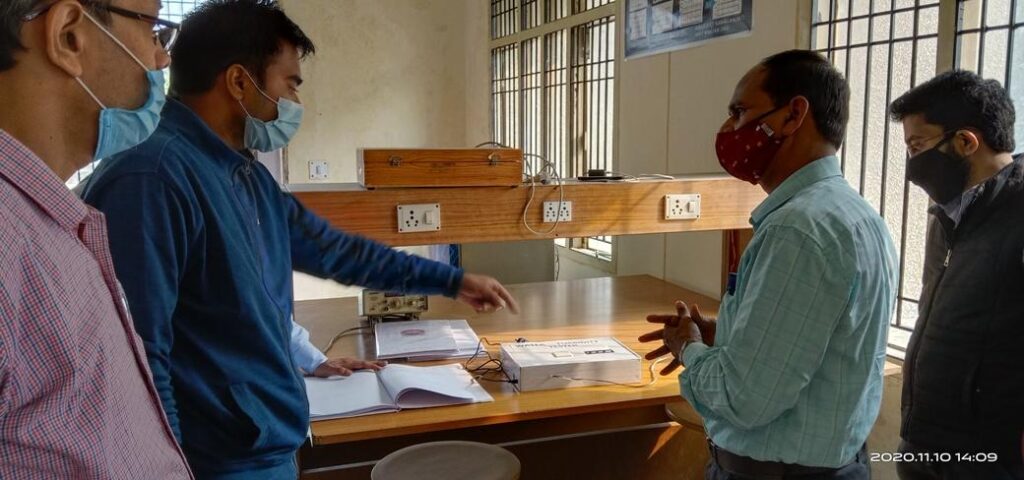 Analog Integrated Circuit Lab:
This lab is primarily meant for the study of analog ICs and there application which help the students to have hand on experiences of analog trainer kits, CRO, multimeter and other analog instruments in real time which make them well versed with the analog circuit.
Major Acheivements
Organised Workshop on 'AVR Architecture based Embedded Systems' held
in ECE Deptt, UIET, in association with BRiCS,IIT Kanpur,28th
Jan-2nd Feb 2009.
Organised Workshop on 'Electronic Circuit Designing' held in ECE
Deptt,UIET ,9th Feb-12th Feb 2009
Organised workshop for oscad on 25 th oct,2013 with help of the spoken
Tutorial project, developed at IIT, funded by NMEICT, MHRD, Govt. of
India.
Organised workshop for oscad on 25 th to 30 th Jan,2014 with help of the
spoken Tutorial project, developed at IIT, funded by NMEICT, MHRD,
Govt. of India.
Organised zonal round of RoboTryst-2014 at UIET,CSJM University
organised by Robosapiens Technologies Pvt. Ltd. in association with Tryst-
2014 IIT Delhi
In collaboration with IETE Kanpur Chapter, ÍETE student Day' was
celebrated on 01-02-2017
The DSP Lab modified & Upgraded in 2017 Under RUSSA scheme.
The Optical Communication Lab modified & Upgraded in 2018 Under
RUSSA scheme.
A Four years Integrated M.Sc.( Electronics) course started from July 2020.
Faculty Profiles
Dr. Vishal Awasthi
Coordinator,   ECE Department

Qualification: Doctor of Philosophy (Ph.D.) ( AKTU, Lucknow), M.Tech.(H.B.T.I., Kanpur)
Area of Specialization: Digital Signal Processing & Control System
Total  Experience :-  22 years
 Publications:
Book & Book Chapters: 04
 Journals: 13
 Conferences: 09 (International-05 & National-04)
Er. Niraj Kumar
Reader

Qualification : Ph.D (pursuing)(Uttarakhand Technical University, Dehradun, (Uttarakhand)),M .TECH (Power Electronics& Drives), (Electrical Engineering Deptt.M.M.M. Engg. College, Gorakhpur, U.P)
Area of Specialization: Power Electronics/Small Grid Technology
Total  Experience : –17
Publications:
Books:02
Journals: 04
Conferences: 02
Er. Anand Kumar Gupta
Assistant Professor

Qualification : Ph.D (pursuing), M .Tech (Gold medallist)
Area of Specialization: Microelectronics & Embedded System
Total  Experience : – 23.5years
Publications:
Journals: 02
Conferences:  07 (International)
Er.  Parul Awasthi
Assistant Professor

Qualification :  M.Tech (MITS,Gwalior), UGC-NET
Area of Specialization – Communication & Networking
Total  Experience–  17Year
Publications –
 Journals :-01
Conferences: 03 (International)
Er. Ajeet Kumar Srivastava
Assistant Professor 

Qualification : PhD.(Pursuing) ,HBTU,Kanpur,  M.Tech.(B.I.T., Mesra), UGC-NET
Area of Specialization – Digital Signal Processing
Total Experience – 17 years
 Publications  
 Journals :-01
Conferences :  03
Dr. Ajay Tiwari
Assistant Professor

Qualification:  Ph.D.,  M.Sc.(Electronics)
Area of Specialization: Solid State
Total teaching experience -19+ years.
Publications
Journals/Conferences:  06
Er. Amit Kumar Katiyar
Assistant Professor

Qualification :  M.Tech.(Electronics & communication Engg.)(HBTI,Kanpur), MSc.(Electronics)
Area of Specialization: Optical Fiber Communication
Total Teaching experience : 15
Publications  
Conferences: 03
Er.Somesh Kr.Malhotra
Assistant Professor

Qualification :  PhD.(Pursuing)  (HBTU,Kanpur) ,  M.Tech (AKTU,Lucknow),  UGC-NET , AMIETE, MSc.(Electronics),
Area of Specialization: Optical Networks
Total experience : 17+
Publications
 Journals :-01
Conferences: 01
Er.Ompal                                            
Assistant Professor

Qualification :  ,Ph.D(Pursuing) )(Uttarakhand Technical University, Dehradun, (Uttarakhand)), M.Tech ( Electronics & communication Engg Deptt.M.M.M. Engg. College, Gorakhpur, U.P)
Area of Specialization: Digital Systems
Total experience : 8+
Publication 
Conference: 02
Journals:02
Er. Preeti Singh
Assistant Professor

Qualification :  M.Tech. (Tezpur University),  UGC-NET , MSc.(Electronics) 
Area of Specialization: Digital Design & Technology /Antenna Design
Total experience : 8+
Publications  
Journals :-01
Conferences: 02
Er. Atul Kumar Agnihotri
Assistant Professor

Qualification :  M.Tech (AKTU,Lucknow)
Area of Specialization: Neural Network and Signal Processing
Total experience : 15
Publication 
Conference: 01
Journals:01
Distinguished Alumni
Dr. Richa Verma
B.Tech 2000 passout
Designation: Principal,
Govt Leather Institute, Kanpur
Contact:+91 6394702336
Dr.Shrawan Trivedi
M.Sc.Electronics 2007 passout
Assistant Professor (IIT(ISM) DHANBAD)
Mobile No: – +91-9532568476
Email: – shrawaniimsirmaur@gmail.com

.Dr.Awakash Dixit
M.Sc.Electronics 2007 passout
He is working as a Senior Scientist at the Joint Advanced Technology Centre (JATC), IIT Delhi.
Contact:
Email: awakash.dixit@gmail.com
Website: https://sites.google.com/view/awakashdixit
Dr. Raghvendra Kumar Chaudhary
B.Tech 2007 passout
Dr. Raghvendra Kumar Chaudhary is an Associate Professor of the Department of Electronics Engineering, Indian Institute of Technology (ISM) Dhanbad, India.
Mudit Awasthi
B.Tech 2016 passout
Designation:Senior Engineer,SanDisk(WD)
ContactNo.:8354092392/9380630574
Email ID:mudit.awasthi32@gmail.com
Rachit Ranjan
B.Tech 2016 passout
Manager,Allahabad UP Gramin Bank
Ankit Goel
B.Tech 2016 passout
Senior staff Engineer,Samsung