ABOUT THE INSTITUTE:
The aim of this Institute is to provide career oriented high quality education in the field of Fine Arts, i.e. Painting, Applied Art, Sculpture, Print Making, Graphic Designing, 3D Modeling, Metal Casting, Textile Design and different types of extracurricular activities, seminars, exhibitions, and projects to make it career oriented. In every academic year, the Institute has been organizing various innovative and interactive programs to developed creativity, i.e. workshops, art shows, talks and demonstrations by eminent artist of their respective fields. So that student interacts with them and enrich their knowledge in the chosen course of study.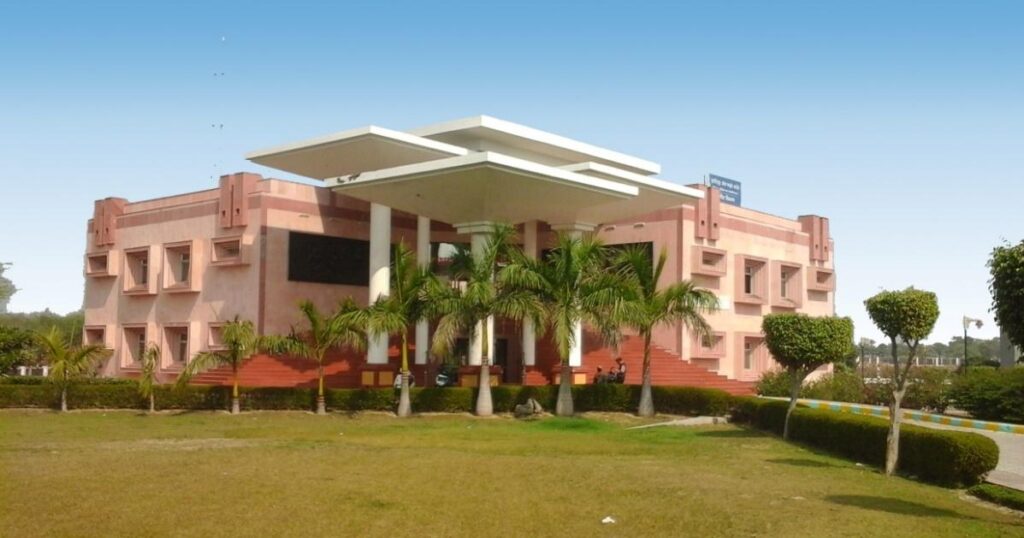 We put emphasis on practical training and theoretical knowledge of various aspect of Fine Arts. The department has a plan of action to organize art exhibitions, National and International art camps programmes for skill development, vocational workshops, demonstrations, conferences, seminars and research programmes, so that the students can earn their livelihood, for this Institute invites skilled artisans and artist to help student master their skills in their chosen field of work.
Institute of Fine Arts was established in Chhatrapati Shahu Ji Maharaj University, Campus, Kanpur M.A. (Drawing & Painting) course introduced in the academic session 2004-05.
Bachelor of Fine Arts (BFA) Four Years course was introduced in the academic session 2010-2011 with three branches, Painting, Applied Arts and Sculpture to encourage the study of Painting, Plastic Arts, Applied Art, Sculpture, Textile Design and Graphic Design as a vocational course and to train to students to a high order.
After that, Master of Fine Arts in Painting, Applied Art, Sculpture and Print-making was introduced in the academic session 2019-20. Not every student wishes to take up a four year course in BFA, so we are going to start one-year short term courses in various branches of Art and Craft i.e. to make students self-dependent in their career.
From the academic session 2021-22 we are going to introduce one-year certificate courses in the following programmes:
Painting
Applied Art
Sculpture (Terracotta, Ceramic and Papier-mache)
Photography
Textile Design
Graphic Design
3D Animation
3D Modeling
COURSE DETAILS
Sl. No.

COURSE

BRANCH

COURSE DURATION

NO. OF SEATS

Eligibility

1

Bachelor of Fine Arts

(BFA)

PAINTING

4 YRS

45

10+2 or equivalent examination.

APPLIED ART

45

SCULPTURE

10

2

Master of Fine Arts

(MFA)

PAINTING

2 YRS
(4 SEMESTER)

25

Bachelor of Fine Arts degree in relevant specialization.

APPLIED ARTS

20

PRINT MAKING

15

SCULPTURE

10

3

Master of Arts (MA)

DRAWING & PAINTING

2 YRS

60

03 Years graduate degree in Drawing & Painting from a University or any equivalent Degree/Diploma.

4

CERTIFICATE

COURSE

PAINTING

1 YEAR

10

10th pass in any stream.

APPLIED ART

10

Sculpture (TERRACOTTA, CERAMIC AND PAPER MACHE)

10

TEXTILE DESIGN

10

PHOTOGRAPHY

15

GRAPHIC DESIGN

15

3D ANIMATION

15

3D MODELING

15
Fee Structure
COURSE

TUTION FEE

EXAMINATION FEE

PROCESSING FEE

ENROLLMENT FEE

INSURANCE FEE

GAME FEE

TOUR FEE

DEGREE FEE

TOTAL FEE

BFA

BFA – 1st Year

22000

4000

50

100

443

50

………..

………..

26643/-

BFA – 2nd Year

22000

4000

50

………..

443

50

………..

………..

26543/-

BFA – 3rd Year

22000

4000

50

………..

443

50

2500

………..

29043/-

BFA – 4th Year

22000

4000

50

………..

443

50

………..

800

27343/-

MFA

MFA – 1st Year
(1st+2nd) Sem.

37000

3000

100

100

443

50

………..

………..

40693/-

MFA – 2nd Year
(3rd+4th) Sem.

37000

3000

100

………..

443

50

………..

800

41393/-

MA

MA – 1st Year

5000

4000

50

100

443

50

………..

………..

9643/-

MA – 2nd Year

5000

4000

50

………..

443

50

………..

800

10343/-

CERTIFICATE COURSE

PAINTING

12000

3000

50

100

443

50

………..

………..

15643/-

APPLIED ART

12000

3000

50

100

443

50

………..

………..

15643/-

SCULPTURE

12000

3000

50

100

443

50

………..

………..

15643/-

TEXTILE DESIGN

20000

3000

50

100

443

50

………..

………..

23643/-

PHOTOGRAPHY

20000

3000

50

100

443

50

………..

………..

23643/-

GRAPHIC DESIGN

20000

3000

50

100

443

50

………..

………..

23643/-

3D ANIMATION

50000

3000

50

100

443

50

………..

………..

53643/-

3D MODELING

50000

3000

50

100

443

50

………..

………..

53643/-
Last 03 Year's Art Activities Of Institute
| | | |
| --- | --- | --- |
| S.No. | Detail of Events | Date |
| 1 | Painting Competition on the occasion of International Tiger Day. | 29 July, 2018 |
| 2 | Photography Exhibition on the occasion of World Photography Day | 28 Aug, 2018 |
| 3 | "Kala-Acharya" Group Show of Paintings with collaboration of U.P. State Lalit Kala Akademi, Ministry of Culture, U.P. Govt. | 05 Sept,2018 |
| 4 | National Artist Camp & Workshop with collaboration of U.P. State Lalit Kala Akademi, Ministry of Culture, U.P. Govt. | 23-29 Sept, 2018 |
| 5 | Painting Demonstration. | 17 Oct. 2018 |
| 6 | Talk on Historical Techniques of Painting. | 26 Oct. 2018 |
| 7 | "Ganesh & Lakshmi" Sculpture Exhibition Cum Sale on the occasion on Diwali. | 03-04 Nov. 2018 |
| 8 | "Kala Ke Rang- Kumbh Ke Sang" Painting Camp sponsored by U.P. State Lalit Kala Akademi, Ministry of Culture, U.P. Govt. | 16-17 Nov. 2018 |
| 9 | Sand Sculpture Workshop. | 25 Dec. 2018 |
| 10 | Participation at Third Jaipur Art Festival. | 17-21 Jan. 2019 |
| 11 | Participation in "Rainbow Colors Group Show" at Gandhi Art Gallery, Delhi | 22-30 Jan. 2019 |
| 12 | Mural Painting Competition on the occasion of University Foundation day celebration week. | 03-09 Feb. 2019 |
| 13 | Participation in "National Youth Festival" Chandigarh Competition. | 01-05 Feb. 2019 |
| 14 | "Chitrakshi" Annual Art Exhibition by P.G. Students. | 05-06 Feb. 2019 |
| 15 | Participation in "Annual PERSONA FEST-19" Biggest Techno Cultural Event of MITADT University, Pune. | 14-17 Feb. 2019 |
| 16 | Participation in one day workshop "Kumbh Mela-2019" at Prayagraj. | 17 Feb. 2019 |
| 17 | One day Painting Workshop &Exhibition for tribute to the martyrs of Pulwama. | 18 Feb. 2019 |
| 18 | Campaigning project work exhibition by the student of Applied Arts sponsored by Kapila Agro Ltd. | 13-14 March 2019 |
| 19 | "Satrant-2019" Annual Art Exhibition. | 09-13 April 2019 |
| 20 | Participated by 4 teachers and 2 students of the department agt Natioanal Art Camp, Mathura organized by U.P. State Lalit Kala Akademi, Ministry of Culture, U.P. Govt. | 18 Aug. 2019 |
| 21 | 5thAnnual Photography Exhibition. | 19-20 Aug. 2019 |
| 22 | "Diwali Art Fare" and display of eco-friendly "Ganesh-Lakshmi" Sculptures. | 25 Oct. 2019 |
| 23 | International Art Camp and Workshop with collaboration of U.P. State Lalit Kala Akademi, Ministry of Culture, U.P. Govt. | 14-20 Nov. 2019 |
| 24 | "Kala ke Rang-Krishna Lila ke Sang" fiber mural camp. | 09-12 Feb. 2021 |
| 25 | Fiber Mural Sculpture Exhibition. | 12 Feb. 2021 |
| 26 | Installation and unveiling of "Saraswati Statue" on the occasion of Basant Panchami. | 16 Feb. 2021 |
| 27 | Sketching and Mural making workshop at Historical Temple of Bhitargaun | 28 Feb. 2021 |
| 28 | "Faguniya" Painting Exhibition | 05-06 March 2021 |
| 29 | Landscape and Nature Study Workshop at Ramaipur, Kanpur | 07 March 2021 |
| 30 | Installation of "University Tree" made by metal scrape. | 20 March 2021 |
| 31 | Webinar, Session-I on the topic "know how & usage & application of the various mediums of before painting" with collaboration of Camlin Kokuyo & U.P. State Lalit Kala Akademi, Ministry of Culture, U.P. Govt. | 31 May 2021 |
| 32 | Webinar, Session-II on the topic "know how & usage & application of the various mediums of while painting & after painting" Camlin Kokuyo & with collaboration of U.P. State Lalit Kala Akademi, Ministry of Culture, U.P. Govt. | 01 June 2021 |
Email : ifacsjmu96@gmail.com